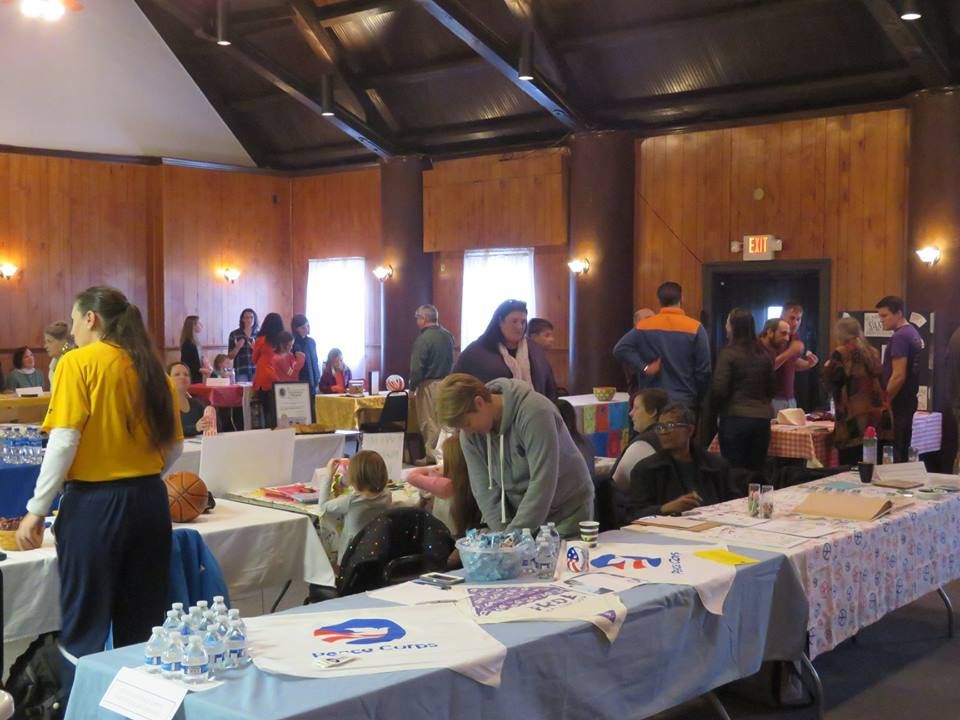 Thank you to the 38 groups, clubs, organizations and churches who joined us at our 1st Annual Cheverly Neighborhood Meet 'n Greet. And a big thanks to all the Cheverly neighbors who came through! A great aspect of Cheverly is the embodiment of the phrase, "we're glad you're our neighbor." The neighborhood meet and greet is an annual invitation to new neighbors and long-time residents alike. Join us on January 26, 2020 for our next event - if you are a group that would like a table, let me know! Check out the directory below of groups who participated!
Cheverly Groups, Clubs, Churches, and Organizations Directory
information below is provided directly by each organization
4th Ward Civic Association
https://www.facebook.com/cheverly4thwardcivicassociation/
All Saints Igbo Anglican Church
Tel: 301-341-1000.
Email: igbochurch@hotmail.com
We are an Anglican congregation from the southwestern region of Nigeria, Igbo speaking region, for the purpose of celebrating God's love, seek and serve Christ in all persons and all places, and to go forth into the world rejoicing in the power. We primarily worship in the Igbo language and also in English Language.
Cheverly American Legion Post 108 Family
Legion - https://cheverlyamericanlegion.com/
Phone: (301)773-0108
Email: cheverlyamericanlegion@gmail.com
Contact Person: Joseph Pruden, Commander
The American Legion is a congressionally chartered mutual-aid veterans organization founded to benefit those veterans who served during a wartime period as defined by the U.S. Congress,
Auxiliary - https://cheverlyamericanlegion.com/american-legion-auxiliary
Email: cheverlyauxiliary@gmail.com
Contact Person: Susan Pruden, President
The American Legion Auxiliary is the largest organization in the world dedicated to veteran service for women. Founded in 1919, the organization consists of around 800,000 members in 9,500 communities across the United States.
Sons of the American Legion - https://cheverlyamericanlegion.com/sons-of-the-legion
Email: CheverlySquadronCommander@gmail.com
Contact Person: Micah Watson
The Sons of the American Legion is a patriotic service organization formed on September 12–15, 1932. The S.A.L. is made up of male descendants of people who served in the United States Armed Forces during times specified by the American Legion.
Cheverly Artists Collective
Facebook: Cheverly Artists Collective
A haven for artists (painters / crafters / bakers / sculptures / ceramists) to upload pictures of their creations to sell or to be recognized.
Cheverly Babysitting Co-op
The co-op is a smallish group of no more than 15 families that babysit for each other and earn points for each sit that they can then use for their own sit.
Cheverly Baptist Church
https://cheverlybaptist.org/
Cheverly Boys and Girls Club
http://www.cheverlybgc.org/
The mission of the Cheverly Boys and Girls Club is to promote the development of children's physical fitness, self-confidence, and emotional maturity through sports, so they develop into responsible, contributing citizens.
Cheverly Boy Scout Troop 0257
https://www.facebook.com/ScoutTroop257/
Cheverly Cub Scout Pack 257
https://www.facebook.com/Cheverly-Cub-Scout-Pack-257-407833455991191/
Cheverly Day Committee
http://www.CheverlyDay.org
This is the group responsible for planning and organizing the greatest day of the year! Cheverly Day is May 18th, 2019! We need your support!
Cheverly Exchange
http://www.cheverlyexchange.com/
This e-mail list is an interactive forum for Cheverly neighbors to share community news, participate in crime watch, discuss local politics, recommend service people, and post yard sales or current events that may interest the community. The Cheverly Exchange is a positive, online forum between residents of Cheverly and is intended to enhance the sense of community that draws so many of its residents to Cheverly to begin with.
Cheverly Garden Club
https://www.facebook.com/groups/CheverlyGardenClub/
Cheverly Green Infrastructure Committee
https://sites.google.com/site/cheverlygreenplan/green-infrastructure-committee
Cheverly Community Market
https://www.cheverlycommunitymarket.org/
Locally grown food, close to home. Fill your Market basket with the best in local produce, fruits, meat, fish, eggs, cheese, bread, pastries and wine. Join us for breakfast, live music and a rotating array of local artisans.
Cheverly Parent Resource Center (CPRC)
http://CheverlyParent.org
Email: cprcpresident@gmail.com
Cheverly Parent Resource Center supports Cheverly parents and children by organizing appropriate family events, sharing parenting resources, and creating a collaborative community.
Cheverly Police Chief's Advisory Board
Email: cheverlypcab@gmail.com
Cheverly Recreation Council
http://www.cheverly-md.gov/Pages/CheverlyMD_BComm/recreation
Email: laura.s.frese@gmail.com
Plans and organizes town-wide events for residents and children, including holiday celebrations and flea markets.
Cheverly Soccer Club
Email: dlkonieczko8@gmail.com
Contact Person: David Konieczko
The Cheverly Soccer Club brings the Challenger International Soccer summer camp to Cheverly and promotes soccer within our community.
Cheverly Swim and Racquet Club
http://www.cheverlypool.com
The Cheverly Swim and Racquet is a private, non-profit corporation established in 1955 on a beautiful five-acre property in Cheverly, MD. In addition to the large swimming pool with diving well/separate baby pool there are six well-maintained tennis courts: four clay and two Har-Tru. A snack bar sits adjacent to the clubhouse, locker rooms, and showers. The pool also provides equipment for basketball, volleyball, shuffleboard, and Ping-Pong, swimming lessons, and social activities for all ages. The pool is open from Memorial Day to Labor Day.

CHV Community Vegetable Gardens
https://www.facebook.com/groups/167271140001310/
Email: chvgardens@verizon.net
Cheverly Village
http://cheverlyvillage.org/
Email: village@cheverlyvillage.org
Cheverly Village is a nonprofit organization of Cheverly neighbors committed to help older residents live at home and in community for as long as they would like.
Cheverly Womans Club
Email: CheverlyWomansClub@gmail.com
Cheverly United Methodist Church
https://www.cheverlyumc.org/
Friends of Lower Beaverdam Creek
Email:Smithdc6019@gmail.com
Gladys Noon Spellman PTA
Email: spellmanpta@gmail.com
Parents of students at the local elementary school working to support their teachers and administrators.
Hogs and Heroes Foundation
http://www.hogsheroesfoundation.com or https://m.facebook.com/HHMD5/
Hogs and Heroes Foundation Inc., Maryland Chapter 5 (MD-5), is comprised of men and women that believe that giving back to our community, military (past and present), wounded warriors, fire, police, and all first responders is our civic duty. We are made up of motorcycle riders and non-riders that believe we can make a difference in our communities through various charitable opportunities. Contact us and see what we are about, we would like to talk with you! No matter what you ride or drive, we welcome you to our family!
One Cheverly
https://www.facebook.com/groups/764562003893127/
A group welcome to all residents of the Cheverly MD Township. Principal goal being to increase community inclusivity and closeness.
Progressive Cheverly
http://www.progressivecheverly.org
Email: progressivecheverly@gmail.com
Progressive Cheverly is an organization of area neighbors concerned about the future of our community, state, country and world and who believe that the promise of a fair, sane and safe world will happen only with a more informed, engaged and active citizenry.
Returned Peace Corps Volunteers of Cheverly
https://www.facebook.com/groups/178255102580073
St. Ambrose Catholic Church
Phone: 301-773-9300
https://sacheverly.org/
A family-friendly, community-based Catholic Church focused on bringing Christ to Cheverly and the nearby community.
St. Ambrose Men's Club
https://www.facebook.com/SaintAmbroseMensClub/
St. Ambrose Men's Club (SAMC) provides support for the mission and goals of St. Ambrose Parish and the Cheverly community. Membership is open to any male of any faith. The Club meets on the second Monday of every month at 7:30pm in Fannon Hall. The Club holds several events throughout the year - including the Spaghetti Dinner, the Beer Garden at Cheverly Day, a Golf Tournament in September, and an Oktoberfest.
Sweetheart Charity Ball