by
Susan Pruden
March 19, 2019
In hopes of not banging my head against the wall, I thought I would put some words on paper…and hopefully clear up some confusion about the Cheverly market. The head-banging is from the Redfin email that went out to lots of Cheverly residents saying that the median sales price in Cheverly was $507,017 in February. This has prompted many texts and emails asking me if it's true. One – it's not true because they left off one sale that brings it down quite a bit. Two – 3 sales does not indicate a trend. That's right, there were a whopping 3 sales in February.
Okay, let's talk about the market – there is a difference between having some sales above $500,000 and being in a $500,000 market. We definitely fall into the first category but not so much in the second category. Is the trend moving upward? Definitely! Are we headed for the stratosphere? In my opinion, no!
Ready for a deep dive into our market statistics? Let's go!
Here's the breakdown of sales ranges over the past 12 months.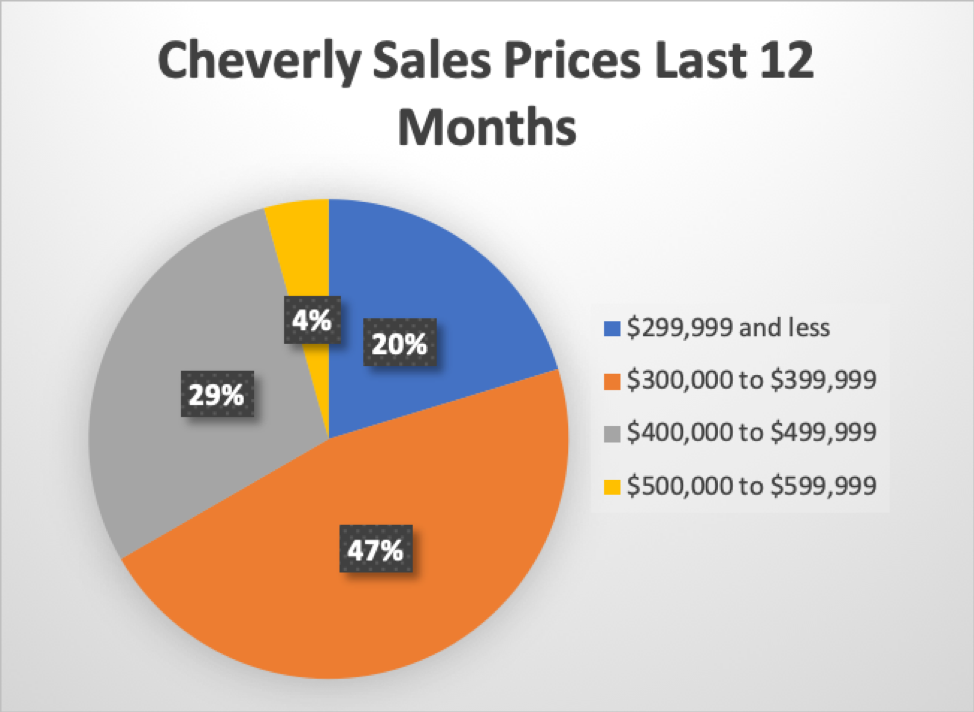 As you can see from the chart above, most of our sales are solidly in the $300,000 range. But knowing that doesn't help until we dig a little deeper and see what characteristics distinguish each price range.
$299,999 and below is fairly easy – most of these are either small homes and/or need significant updates. What we in the industry describe as having "deferred maintenance" or simply being "dated." Many of these are also what we call "distress sales" – they are foreclosures, bankruptcies, short sales and often estate sales.
The majority of our sales are in the $300,000 to $399,999 range. These houses reflect the way most of us live in our homes. We update items as they need replacement, so we end up with old bathrooms and a new roof or new HVAC system. Or an updated kitchen and an unfinished basement. Even more so, we might have a new refrigerator, but an old stove and a dishwasher that doesn't work and has been used as a drying rack for years. As a rule, the higher you go in the $300,000s, the more features are updated and improved but it's still mostly a mixture of dated and updated.
Then you look at the $400,000 price range. With one exception (the Bellamy house), these are completely renovated by an investor or "flipper," or are substantially and recently updated with quality, love and care by the owners for their own enjoyment. However, the vast majority of these sales are renovated by investors who bought the house for the exact purpose of fixing them up and re-selling them. Getting inundated with mailers advertising "we buy houses?" This is why. These investors know that Cheverly is a desirable market and that buyers are willing to pay more to get everything new. And that some sellers are willing to take less than market value just to get out from under. Okay, now we get to the $500,000 and up homes. Just a reminder, that 4% in the chart is made up of 3 homes. All built pre-1930 and all completely renovated. In other words, rare. That we've had 3 of these particular types of homes on the market in such a short period of time is as rare as the homes themselves.
Just how many of those homes do we have in Cheverly, you might ask. There are 61 of those homes in town. Out of 1,804 homes. We just don't have that many of these particularly desirable homes ready to sell and even fewer of them have been renovated top to bottom.
I won't be surprised to see a few more sales in the $500,000 and up range – but there is likely to be something exceptional that pushes the sale that high. We've only had 9 homes EVER sell above $500,000 and 4 of them were new construction, like those on Jocelyn St.
I'm not saying that our prices aren't going up, but they certainly aren't going up as fast as some would have you think. The Redfin email isn't even useful when it has only 2 properties on it and is missing sales that are certainly within our town borders. And keep in mind that such a limited look doesn't take into consideration other things that affect the market, like government shutdown and blizzards!
The biggest part of the pie to watch are those in the $400,000 range. If we start seeing houses that reflect the way we live – some updating here and there, but only as it needs it – move into the $400s, then we'll know that the market has truly moved upwards. Until then, we are still firmly in the dual market world – those that are completely updated and then the rest of us.
The Spring market is heating up! Cheverly is always gorgeous in the Spring, so if you're thinking of selling, let's talk about what it takes to get your home on the market and what it takes to get the most money for your house. I'd love to talk to you about selling your home!